Westwater Advocates bids a remote farewell to stable stalwart Sir Crispin Agnew QC. Sir Crispin has enjoyed a splendid 38 year career at the bar having previously served in the army. Before the creation of the Westwater Stable Sheila was Crispin's deputy clerk in the Robertson Stable. As Crispin transitions into retirement we wish him well and look forward to celebrating his retirement with him. When it safe to socialise we will gather and hopefully hear about some of this new adventures, which look set to include long distance sailing, cycling tours and plenty of family time. He is not giving up law however! He has been made an Honorary Research Fellow by the University of Dundee and will be writing academic articles in that capacity.
Clerk Sheila Westwater said "It has been my pleasure and privilege to clerk for Crispin for so many years. He is a great ambassador both for the Faculty and for the Stable with his phenomenal knowledge across many diverse subjects, his enthusiasm about the Stable and his encouragement of the more junior members. He always behaved in a kind, considerate and unassuming manner and we will all miss him."
Junior counsel Neil MacDougall said "The phrase 'They don't make them like they used to' immediately sprang to mind when asked to describe Sir Crispin. A true example to us all. Hard working, intelligent and measured as all advocates should be. Kind, humble and generous as all advocates should aspire to be. I had the pleasure of junioring to Sir Crispin at the European Court of Justice. It was a delight to see the glint in his eye and smile on his face as he took to the biggest of stages. Enjoy your retirement Crispin, you deserve it!".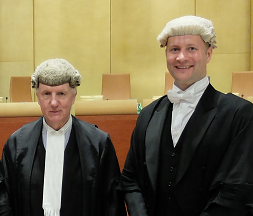 Sir Crispin and Neil at the European Court of Justice in 2014.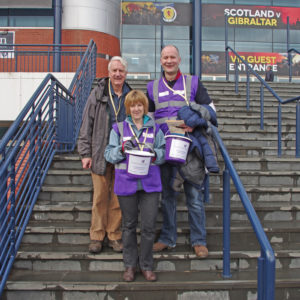 Crispin and Neil collecting as part of the team for Dyslexia Scotland at Hampden Park (pictured with Cathy Magee, Chief Executive of Dyslexia Scotland).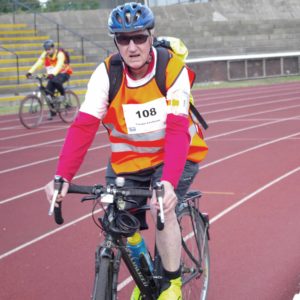 Crispin taking part in the Edinburgh Night Ride Cycling Challenge in 2015. Participants cycled 50 miles around Edinburgh and the Forth and Crispin raised funds for Dyslexia Scotland.